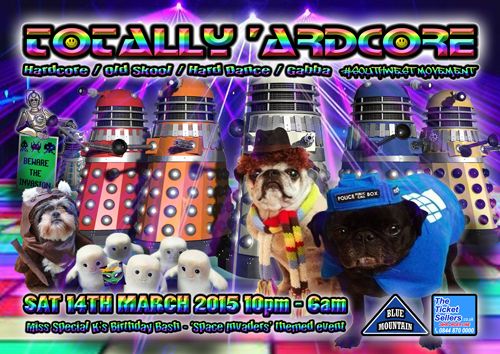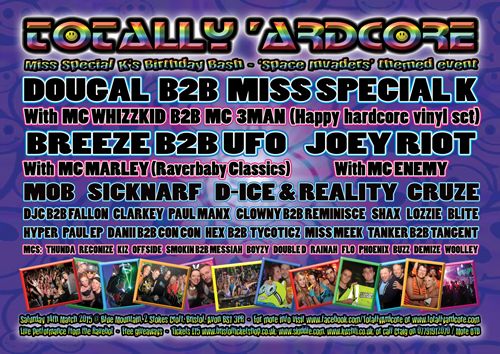 SATURDAY 14TH MARCH 2015 10PM - 6AM
Blue Mountain, 2 Stokes Croft, Bristol, BS13PR
***HISTORY OF TOTALLY 'ARDCORE***
Over the last 10 years this event has gone from strength to strength with bigger lineups, bigger productions, and more and more ravers gracing the dance floor each and every time, then returning again and again and again.
Totally 'Ardcore began purely out of love for the hardcore scene, and over the years it has gained the reputation of being 'Bristol's most talked about hardcore event,' due to it's whacky flyer designs, crazy competitions, free giveaways, and themed events. It's achievements have been recognised by leading brands on the scene and they have more recently been invited to host rooms at events including Dreamscape, Fantazia and Marc Smith's Birthday Stomp.
This event takes pride in bringing you the ultimate party atmosphere, which has always been highlighted in reviews from the Ravin Eye magazine. The team is highly commended for the effort they put into to the production on the night, including unique themed decor from the very talented in house artist Trip, and some of the best lights and lasers you could imagine.
Attention to detail is exactly what this brand are all about and they never fail to impress!
***WHAT THE HEADLINERS SAY***
Some quotes from previous events include...
"That's probably the most fun I've ever had playing a set…one of the best crowds I've ever played for." Gammer
"The best hardcore event I've been to this year." Billy Daniel Bunter
"I love playing for these events. It's not only one of the best club nights in the country...but it's also promoted by people who really love this scene and everything about it, and to me that's special." - MC Storm
"A genuine, quality, raver-friendly party and it was an honour to be part of it." - Vibes
"One of the best nights of the year for me, such an amazing atmosphere in there, roll on the next one" - Chris Unknown
"The crowds were off the scale!" Marc Smith
"The best smaller event I've been to in years." MC Obie
"Totally Ardcore is without a doubt the leading light for hardcore for me when it comes to all round production and music policy in the area." MC Frikshon
***WHAT THE RAVERS SAY***
Some quotes from previous events include...
"Totally 'Ardcore is the cream of raves but sat was something else. I feel they got the mixture of hardcore, happy hardcore and techno spot on."
"Personally I don't think there's another event in the country that manages to create an atmosphere as good as TA."
"Totally 'Ardcore never fails to deliver, a massive credit to the scene, and brilliant work put on by everyone behind the scenes. If there was an award for Hardcore's most reliable rave, TA would win it!"
"Great atmosphere, great people, place was rammed!"
"The only rave nowadays I go to where everyone chats to everyone no matter who they are or where there from, you can't buy that shit"
"Literally couldn't stop smiling all night! Just awesome!"
"Totally 'Ardcore really is the pure definition of PLUR no dickheads no trouble just great atmosphere def keepin TA on my regular list."
"What an atmosphere so many whistles and a few horns, something I aint heard in a rave for a while."
" It was the best hard core rave I have ever been to and I been to a few!! "
"TA never fails to give me that buzz! Always look forward to your raves months ahead! Never been to one where I've left disappointed! "
***FULL DETAILS FOR THIS EVENT***
We return back to Blue Mountain for the first time in 2015 to celebrate the birthday of Miss Special K with some very exclusive sets from many of the leading headliners, as well as performances from some of the best up and coming artists on the scene. Full event info here...
https://www.facebook.com/events/1470108953277937/
This will be a 'Space Invader's theme so be prepared to be transported through space in Dr Who's tardis, to a rave fully decorated with aliens, planets, space monsters and much much more!
In true Totally 'Ardcore spirit, there shall be a competition on the night for the 'best dressed' raver, with the winner receiving a unique Totally 'Ardcore trophy as well as a free guest list for the following event. Anyone needing ideas for costumes please check out
https://www.facebook.com/FancyDressFanatics
In addition, there will be an on stage performance from the 'Ravebot' (a live sound activated laser robot). This is an incredible display which got lots of ravers talking at our previous event!
There will also be a Photo Booth and props to capture whacky moments from the night :)
In true Totally 'Ardcore spirit, we shall be giving away FREE NOISEMAKERS to all ravers who purchase advance tickets, and there will be 100 FREE VODKA JELLIES for the first 100 people through the door on the night.
Why? Because we are TOTALLY 'ARDCORE!!!
***FULL LINE UP***
*MAIN ROOM*
★DOUGAL b2b MISS SPECIAL K (Happy hardcore vinyl classics) with MC WHIZZKID B2B MC 3MAN
★BREEZE b2b UFO (Raverbaby Classics)
with MC MARLEY
★JOEY RIOT (Lethal Theory)
with MC ENEMY
★MOB (Anuva Level)
with MC ENEMY
★SICKNARF (Gabba set)
with MC BUZZ
★DJC B2B FALLON (Feel the Rush / NTWICH)
with MC RECONIZE
★CRUZE (Trackmaster Music)
with SMOKIN B2B MESSIAH
★D-ICE & REALITY (Delerium happy classics)
with MC KIZ
★REMINISCE B2B CLOWNY (Operation Hardcore / Clown Trax) with MC THUNDA
*ROOM 2*
★MISS SPECIAL K b2b MISS MEEK (Hard Bounce set)
with MC MESSIAH
★PAUL MANX (Core Blimey)
with MC BOIZY
★CLARKEY (Futureworld)
with MC OFFSIDE
★SHAX b2b LOZZIE
with MC RAINAH
★HYPER (MOTNS)
with MC DOUBLE D
★DANII b2b CON CON
with MC JACK
★PAUL EP (NRNS)
with MC DEMIZE
★BLITE
with MC PHOENIX
★HEX b2b TYCOTICZ (Harder styles)
with MC WOOLLEY
★TANKER B2B TANGENT
with MC FLO
***FURTHER INFORMATION***
Should you have any further questions please call 07872446057 or visit the following webpages...
http://www.facebook.com/TotallyArdcore
http://www.totallyardcore.com
http://www.soundcloud.com/TotallyArdcore
http://www.youtube.com/TotallyArdcore
***TICKETS & PRICES***
**ONLINE**
£8 Earlybird tickets now on sale here...
★
https://www.theticketsellers.co.uk/tick ... h/10033686
£15 Standard tickets + BF on sale here...
★Ticketsellers -
https://www.theticketsellers.co.uk/tick ... h/10033686
★Skiddle -
http://www.skiddle.com/whats-on/Bristol ... /12279189/
★Kushti -
http://www.kushti.co.uk
**PAPER TICKETS**
£15 Standard tickets + BF available from...
★Bristol Ticket Shop - 41 High St, Bristol, BS1 2ATP - (0117) 929 9008
★Catapult Records - 3-7 Duke St, Cardiff, Glamorgan CF10 1AZ - (02921) 660633
★Acorn Records - 3 Glovers Walk, Town Centre, Yeovil BA20 - 1LH (01935) 425503
£15 Standard tickets (**WITH NO BF**) available from our ticket agents...
★Craig - Bristol / Bath - 07791912070
★Kelly - Bristol - 07786108651
★ Hayley - Bristol - 07979816610
★Damien - Bristol - 07961496540
★Chris & Karen -Trowbridge / Melksham / Chippenham - 07730597013
***COACHES & TRAVEL***
For coach information please contact Ernie - 07973 551171
or visit
https://www.facebook.com/groups/49282026262/
The club is only a few minutes drive from the bottom of the M32, a 20 minutes walk away or 5 minute taxi ride from Temple Meads train station, and 5 minutes walk from Bristol Coach / Bus station. There are also a number of hotels close to this area.
PLUR
THE TOTALLY 'ARDCORE CREW :)